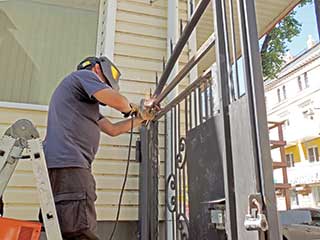 Increase the safety and security of your home or business with a new gate system. If you are planning a new gate installation, we will discuss all the viable options and advise you on the most suitable unit to meet your needs. Plus, we will also oversee the project from beginning to end with the minimum of hassle.
Choosing The Right Material
Gates can be designed to compliment your property, and they are available in a wide range of materials. Each one has its own advantages and disadvantages. Steel gates are durable and easy to maintain, but susceptible to rust. Wooden gates, on the other hand, offer a certain rustic and natural charm, but take a lot of maintenance and will need repainting from time to time. Regardless of which material you choose, our experts can carry out a new gate installation to the highest standard.
Professional Opener Installation
Searching for a more advanced opener for an existing or new gate? Rely on our local team to install your new unit quickly and efficiently. From sliding gate and swing electric openers to underground units our service covers the motor unit, hardware components, and any chosen optional add-ons. We will test and ensure that your system is operating to its full potential from day one.
Installing A New Intercom System
Our experienced technicians can set up and program an intercom system for any brand. There are a number of options available ranging from a simple voice system with a transmitter together with a receiver to a more technically advanced model which provides a live video feed and records faces. You can count on us to install your new system with the utmost precision.
The Best Service Around
Get in touch with the Roll Up Door Repair Manhattan, NY team to get your new system installed with speed and efficiency. We'll respond as quickly as possible and can professionally carry out large-scale and complex installations.
But wait, there's more! We also offer:

Sliding Gate Wheels

Aiphone Gate Intercoms

FAAC Gate Opener

Wrought Iron Gates