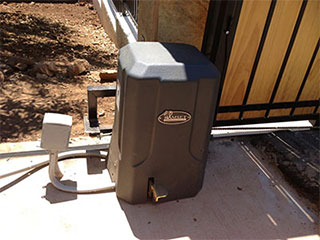 Any automated gate has an opener, or "operator," connected to it, as this is the device that powers the system's movement. These devices come in all shapes and sizes, from chain-linked pulling devices for sliding gates to retracting robot arms for swinging ones. Whatever kind of gate you may have, the opener is what actually does the work of moving it open and shut, which means that a problem with this device can make the system inoperable.
Common Issues With Openers
Like any complicated machine that's left outside exposed to the elements, there are all sorts of things that can affect the performance of electric gate openers. This includes dirt, moisture, and temperature extremes. The hard work of moving your heavy wrought iron gate (for example) on a daily basis also inflicts wear and tear on the motor over time. In addition to the delicate wiring, circuit boards, and moving metal parts that can be damaged, an opener can also experience trouble working properly if its computer programming or safety sensors are malfunctioning.
Repairing and Rewiring
More often than not, these problems can be solved without needing to replace the entire opener. Our technicians are intimately familiar with every type of unit that exists today, and repairing one is usually a matter of cleaning, unclogging, or replacing one or two small components. Of course, if complete unit replacement is required, our experts can provide you with all the information you need to choose a model that fits your needs perfectly.
Opener Installation and Replacement
Our company maintains an inventory of high quality components from trusted manufacturers such as LiftMaster, All-O-Matic, and Elite. If your opener is just beyond saving, or if you need to set up an entirely new gate system, our team will happily advise you on the best model to suit your needs and price range. Modern models have all sorts of useful features that are worth considering, like WiFi and smartphone connectivity, special safety systems, and even backup battery integration.
All The Help You Need
If you're having trouble with your opener, or need any other kind of automatic gate related work done, our team is available to help home and business owners anywhere near Manhattan. Call us or book an appointment online, and our technicians will be on their way.
Need more? We also provide:

Gate Motor Repair

DKS Gate Opener

Solid Sliding Gates

Phone Entry Systems