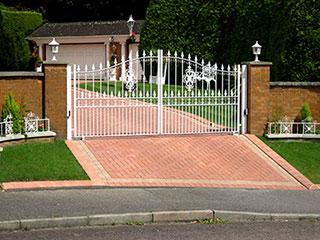 It's easy to overlook your driveway gate. While you probably use this system on a daily basis, we often come to take it for granted, especially after getting used to it working properly day in, day out. Unfortunately, just because it's functional today, doesn't mean your driveway gate will stay functional forever. When things go wrong, and something breaks down, you'll need to have nearby experts come and lend you a helping hand. Roll Up Door Repair Manhattan is the service company to reach out to when trouble raises its ugly head.
Various Opener Issues
The driveway gate operator, or opener is it is also known, is what allows the system to work automatically. If some electrical glitches or mechanical issues begin to affect it, you may find your gate stuck, or behaving strangely. The type of system you have (sliding, swinging or lifting gates) require different types of openers. There are, of course, various subcategories as well, depending on the drive system the gate opener uses, and whether or not it's installed at surface level or underground. The range of potential problems means you'll need experts to assist you when things go wrong with your driveway gate.
Driveway Gate Materials
There are all sorts of options to choose from when it comes to having a new driveway gate installed. Certain styles go well with certain materials, for example, a swinging wrought iron gate is somewhat of a classic system that offers a great deal of prestige. Sliding steel gates are famous for their durability and therefore it's no wonder that you can usually find them at commercial properties. Each material has different pros and cons, so the decision making process shouldn't be taken lightly. Vinyl vs wood; steel vs aluminum; it can be hard to choose which driveway gate material is going to be right for you. Well, luckily, you don't have to make that choice alone.
Get Help From Nearby Gate Experts
All your service needs are covered with Roll Up Door Repair Manhattan. Want to have a new wireless intercom system installed? Need to have some opener problem fixed? No problem, let us help. Call our service hotline for more information, and to learn about our custom made driveway gate construction services.