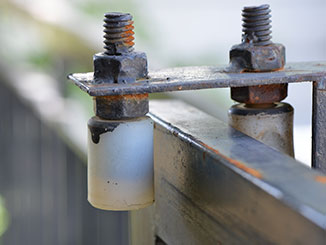 Gates are not only convenient, but they also provide safety and security to your home. When they fail to fully function, you can rely on us to repair or replace even the most complex system. Contact our dedicated team of gate repair technicians, now.
Adjusting Or Repairing A Sagging Gate
Rotting wood or poorly welded metal gates can droop or sag. In this case, you will need to call in the professionals to make adjustments to realign your gate. Alternatively, in order to make the gate rigid again, they may have to strengthen the current support structures by installing struts and posts. This will result in your gate opening and closing smoothly.
Back In The Swing
Over time, a swing gate will place a great deal of pressure on its hinges. This may not cause a problem if the welds are sufficiently strong or if there are adequate hinges in place. What can be a problem though, is the post or welds giving out. Should either of these annoying issues occur, contact our team to find out more about our repair services.
Open And Shut Case
It's a given that automatic gates are not only convenient but also offer added security to your property. A remote control opener can enhance both of these benefits. However, despite being extremely durable, over time they are subject to wear and tear causing a system malfunction. Should this happen, our technicians, who carry a comprehensive range of spare parts for a variety of models, will return your gates to working order.
Automated System Issue? No Problem
Automation is the epitome of convenience. An opener unit together with its sensor will help your gate achieve just this. Should one of these components fail, you will need to open your gate manually. To get your gate opening and closing smoothly once again, call the professionals.
The A-Team!
If you're looking for a new installation or have a repair problem, hire the very best! Roll Up Door Repair Manhattan is the No.1 provider for all your service needs. Contact us today.
We also take care of:

Electric Gate Repair

Swing Gate Operator

Hinge Welding Repair

Linear Gate Intercoms